Sheba had been through a lot in her six years of life.
Upon intake, a routine blood test was administered and our staff discovered she had heartworms. Not surprising since she had spent most of her life outdoors. Heartworms can be deadly, so treatment was quickly started. Luckily, staff and volunteers gave Sheba plenty of attention while she had to limit her activity and play time.
She was with us almost two months when the fire devastated the Orlando shelter. She was one of 26 dogs rescued from the building and taken to Sanford. Yet another unsettling experience for this big-hearted girl.
Not long after the move to the Sanford shelter, staff noticed that she was having issues with her left hind leg. It turned out to be a chronic injury to her CCL (cranial cruciate ligament), likely caused by her being hit by a car before she came to Pet Alliance. It was obvious that the injury was causing her pain and limiting her mobility. Because of this injury she went on and off medical rest several times during her stay. We knew she needed a long-term fix for this problem.
Staff worked hard to find a solution so Sheba could live her best life. Fortunately, Helping Hands Veterinary Surgery and Dentistry of Florida had an opening and were able to repair her CCL in June. Her surgery was a success and after spending two months in rehabilitation, Sheba was feeling so much better.
Additionally, she has completed her heartworm treatment and is now heartworm free!
Despite all she'd been through, Sheba's goofy, friendly, and laid-back personality never lost its shine. Staff and volunteers greatly enjoyed the time they spent with her and were continuously inspired by her resilience.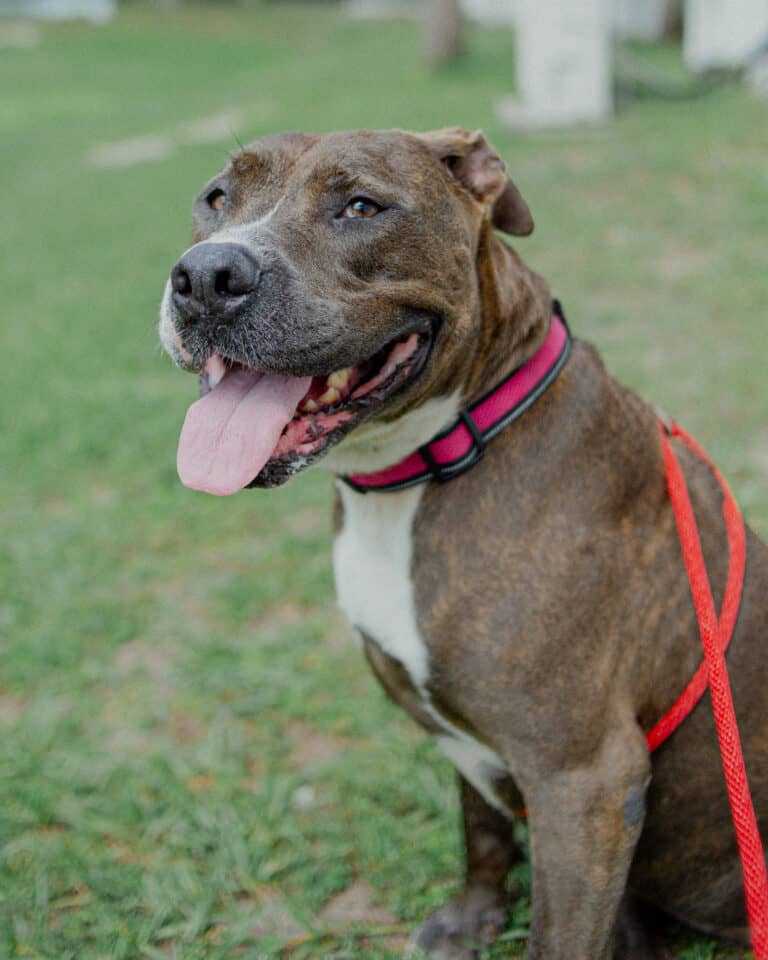 After almost 500 days in our care, Sheba went home!
Her new paw-rent, Randy, had this to say about her:
"I was looking for a rescue, just like her. One who'd been there a while that nobody wanted… For me, it didn't matter what breed, or if they were a puppy or large or small. In that sense, I didn't really pick her, she picked me!
Our first encounter was at Pet Alliance Sanford… She approached me and asked for some pets, and then sat beside me for a while and enjoyed some attention. She even reached up and gave me some kisses – which I didn't expect! I was told her story and knew that she was exactly what I'd hoped to find. 
She enjoys laying out in the sun in the backyard. I think I'm happiest when I see her frolicking in the yard, playing with toys, and soaking in the sun. She seems content, and that makes me happy. 
I hope Sheba's story encourages others to take a chance on an older dog. They won't regret it."