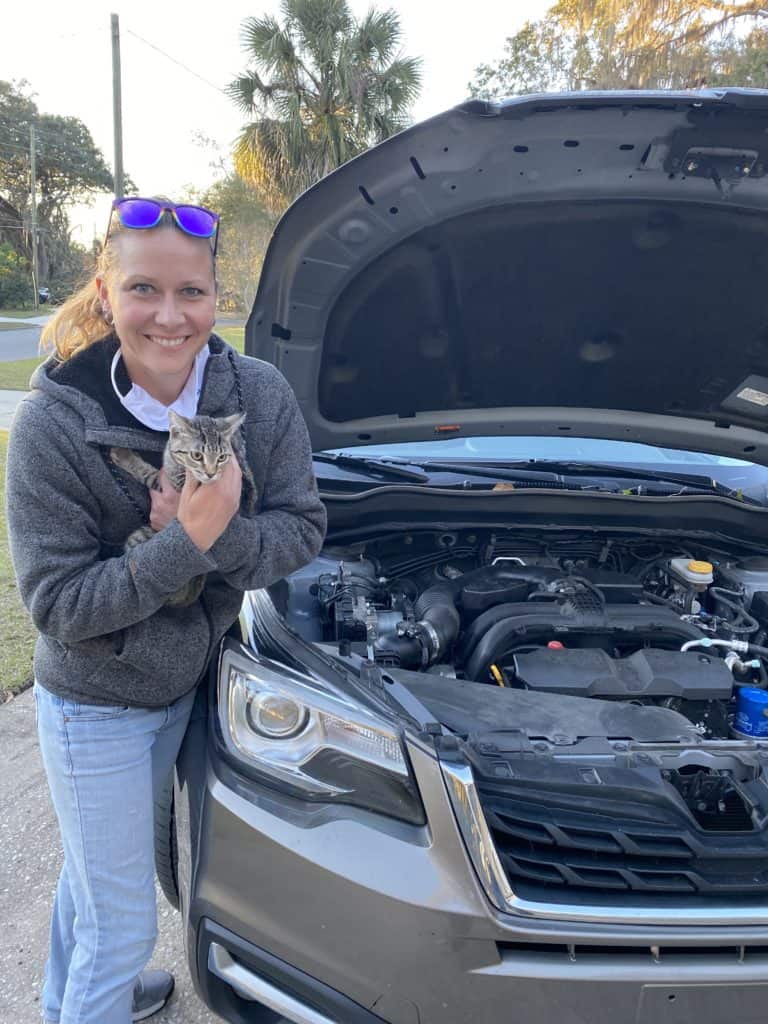 There's never a dull day at the shelter! 
This little hitchhiker found her way inside the engine of our Pet Alliance Clinic Manager's Subaru! Candyce heard tiny meows from inside her car on her way home from a long day at the office. Little did she expect to find the cutest feline under the hood looking for a warm place to snuggle down for the night.
Finding animals in car engines is not a common problem for us Central Floridians, but when it's as chilly as it has been these last few days… there's a greater chance of animals (especially community cats) finding refuge in a warm engine.
4 Steps to Avoiding Fluffy Hitchhikers 
When it's chilly – DON'T turn on the car right away.
DO a quick check underneath the car and on the tires to see if a fluffy one is perched and taking a nap.
Bang loudly on the hood of your car and honk the horn to try and spook any unwanted passengers.
At this point, if you don't hear any movement or meowing head to your destination! But if you do hear something moving around in your engine you'll need to investigate further — do not start you car at any point though.
Sometimes kittens get stuck and will need help getting out. Use thick gloves and gently try to remove them. Do all of these steps and you too could be a life saver! 
This little girl was lovingly named Subaru, and Candyce brought her home for the night to get cleaned up, helped fill her belly with yummy kitten food, and provided her an appropriate spot to warm up before bringing her back to Pet Alliance.
She has already pending adoption with a clinic staff member! We love a happy ending! 🧡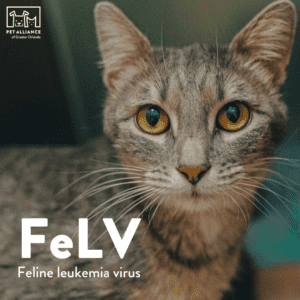 Pet Alliance of Greater Orlando veterinarian, Dr. Julie Andersen, explains Feline leukemia virus (FeLV), an ailment that impacts millions of cats globally.
Read More »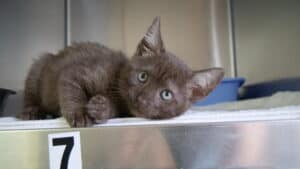 Starting Meow – It's Cat Month! Orlando, FL (April 1, 2022) – "Kitten Season" is upon us, and Central Florida's
Read More »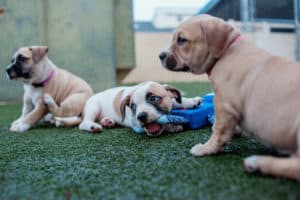 Global Pet Expo 2022 and Pet Alliance of Greater Orlando Pet Alliance of Greater Orlando is Central Florida's oldest and
Read More »